---


Can't Get Enough Captain Jack!
If you're like me, three films is NOT enough!
It's All For Jack!
This site is dedicated solely to Captain Jack Sparrow! It consists of three photo galleries - The Curse of the Black Pearl, Dead Man's Chest, and At World's End - for a total of 6,222 high quality images, all screen caps taken by me, for the enjoyment and enrichment of the entire world!


NEW DEAD MEN TELL NO TALES Extended Trailer!
CLICK FOR WHAT'S NEW - October 3, 2016. WE HAVE OUR HEADING!
Each picture is a thumbnail, click it for the full-size jpg...or download the 1,199 kb bmp. Slideshows are yours to view and keep!
A bonus photo album of deleted scenes from The Curse of the Black Pearl will have you wishing the film's editor wasn't so quick with the scissors!
Future plans are to expand the site beyond the screen caps, so visit often!
All these images are free! Use them for your own Captain Jack album, create wallpapers, slideshows, or just stare dreamily into Jack's deep, brown eyes... Click on PIRATES OF THE CARIBBEAN and begin your voyage with Captain Jack Sparrow!!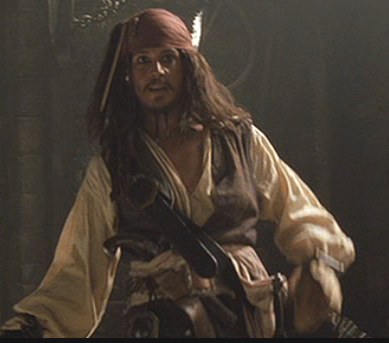 The Captain Jack Mystique
Everyone loves him. Most find him baffling. Many would peg him as effete, though this seems a shallow perception.

Captain Jack Sparrow... wide-eyed innocence... quirky nose wrinkle... winning smile... intelligent and smart... and savvy!... lives in another world... handsome as the sea is blue... unbridled spirit... gives his emotions free rein... looks like a cuddler... irrepressible... invading everyone's personal space... runs like a girl...
a different take on everything... or rather, a fresh take on everything... loves and lives for freedom and his papa... forgiving heart... possessing all the precious qualities of a child.

And that is how I perceive Jack Sparrow, at his core a little boy from Tir Na nOg, making his mark on a man's world. I get the impression his parents threw up their hands and released him onto an unsuspecting pirate/establishment imploding world.

On the surface he seems damaged somehow, somewhere in his mysterious past, his childhood likely. He's got so few of the 'graces' of the acceptable adult world and when displayed, they seem to mock us. If only we could help him break free of his demons!

One honest, introspective look will put us in our place - it is Captain Jack Sparrow who is truly free.
---
Captain Jack belongs to the world! If you take my pictures for your site or fanwork, please provide a link back to ALL CAPTAIN JACK SPARROW ~ thanks!


---
The Man Behind The Pirate
Born John Christopher Depp II, June 9, 1963, Johnny has taken the winding, less traveled road to his well-deserved acting fame. His filmography includes Nightmare on Elm Street (his debute), Platoon, Edward Scissorhands, and Fox's 21, Jump Street. Johnny both directed and acted in The Brave, 1997. He was nominated for an Academy Award for Best Performance By A Leading Actor for 2004's Finding Neverland. People Magazine declared him Sexiest Man Alive in 2004. This year, Johnny was again honored by People Magazine in their Best Dressed Men issue. Johnny Depp is the only actor in a Disney film to be nominated for an Oscar in the Lead Actor category; this for his portrayal of Captain Jack Sparrow in The Curse Of The Black Pearl. The accolades continue almost on a monthly basis, the world over.

And oh! How he loves his children!

These feats are only the tip of the iceberg for this multi-talented man. The web is filled with Johnny Depp fan sites... reading only a few will give you an idea of the scope of this man's talent and the depth of this man's heart. The links at right will get you started. You might then realize that Captain Jack Sparrow could arise only from the heart of Johnny Depp.

"With any part you play, there is a certain amount of yourself in it." ~ Johnny Depp

Wouldn't we all love to meet Johnny Depp/Captain Jack Sparrow!

---
My Guestbook is to the right, if you please ~ and thank you!
* * Special "Thanks!" to Matty for the inspiration that made this site possible! * *
Since October 20, 2007. Copyright © 2007 allcaptainjacksparrow.com. All images and graphics property of allcaptainjacksparrow.com and displayed under Free Use judicial doctrine, US Code, Title 17, Section 107. Any unathorized use is unintentional.
Pirates Of The Caribbean
films property of Disney Pictures. Contact via email with any concerns.